What is Digg?
Digg is a website that brings together and features the best of the Internet by using the submissions and votes of thousands of users.
A Bit More Detail
Members of Digg find and submit interesting, newsworthy, funny or useful pages from around the Internet. There are various rules about what and how you submit this content, mostly to try and avoid spammers making too much noise on the site.
This is what a submission looks like:
If other users like the submission, they'll 'Digg' it. There's an advanced algorithm at work determining how well a submission does on the site, but the basic idea is that the more votes a submission earns, the more visible it becomes.
If a submission receives enough votes, it will eventually appear on the Digg homepage. This is the holy grail of social media because a front-page story guarantees a large number of visits and visibility amondst the web top influencers.
There are eight top-level categories:
Technology
World & Business
Science
Gaming
Lifestyle
Entertainment
Sports
Offbeat
Within each of these categories are between five and ten subcategories. Every category and subcategory has its own 'homepage' eg. www.digg.com/design. The overall homepage at www.digg.com draws from each of these smaller homepages for its content.
Theoretically, the homepage should contain a list of the best content from all around the Internet. In practice, this doesn't always happen because of gaming and group digging. Read on to find out where it all started and how the site has evolved over the last six years.
Where It All Began:
Digg was created by Kevin Rose, Owen Byrne, Ron Gorodetzky, and Jay Adelson. Everyone apart from Owen Byrne is still heavily involved in the site. The beta version launched late 2004 and back then there were only about 200 users (mostly Rose's friends).
The inspiration for Digg came from Kevin's use of the site Slashdot:
"I was a big geek so Slashdot was one of my daily news sources. Users would come and submit stories. I wanted to see what would happen if the users could vote on the stories and determine which ones went on the front page."
The name 'Digg' comes from the concept of users 'digging' the best content out from the rest of the noise on the Internet. The domain name 'dig.com' was already being used by Disney, so the extra 'g' is just there because the domain was free.
Digg's Growth:
At the end of 2005, TechCrunch reported on Digg's rapid growth and upwards trajectory. They compared the site with its inspiration and chief competitor- Slashdot.
What we know for sure is that Digg has grown impressively over the years and is now officially recognised as mainstream. According to Alexa, it hovers at around the 100th most popular sites on the Internet.
Check out this great Digg video that summarized 5 years of Digg into 5 minutes: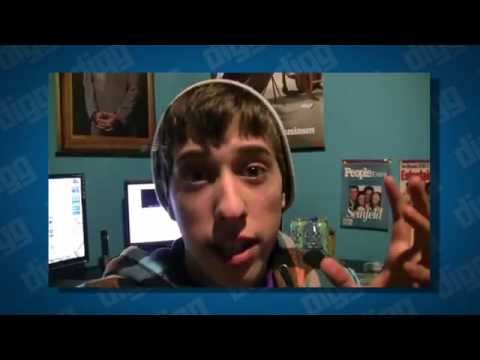 Digg's Greatest Events, Changes and Controversies:
2005
February 20th – Paris Hilton's Phone Hacked – Paris Hilton's phone was hacked and Digg was the first place the story was indexed. The massive influx of traffic knocked Digg's servers over. Digg couldn't have been happier though; the event proved that the model worked and that this user-driven social network would have the potential to break news stories faster than anyone else online.
July – Digg 2.0 is released. The site had a new look and feel, as well as "Tons of new features". Check out the 1.0 version in this video: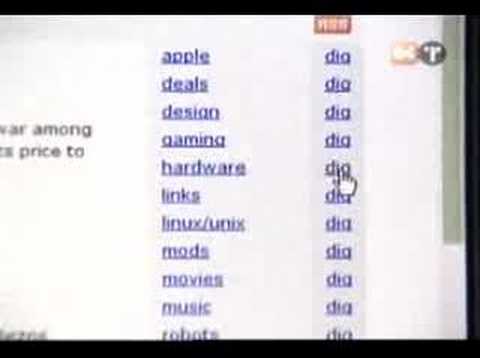 compared to the redesign below:
July – With the realization that Digg had potential to make it big. Rose decided to hire Jay Adelson as CEO of the company.
July – This month also saw the debut of Diggnation – a "weekly tech/web culture show based on the top digg.com social bookmarking news stories". The video podcast is hosted by Kevin Rose and Alex Albrecht. They notoriously start each show by reviewing a beer and then consuming it during the next half an hour or so. Diggnation occasionally does live shows. The show has won an impression array of prizes since its inception, including The Podcast Award for Best Technology Podcast.
September 18th – The first digg blog published was published on this date- it's pretty unimpressive!
October – Digg receive their first round of VC funding from Greylock Partners, Omidyar Network and a few other investors, for the sum of $2.8 million.
2006
January – The web is convinced that Yahoo [http://www.yahoo.com/] is set to buy Digg, for a rumoured $30 million. The rumors were dispelled by Digg soon after.
April – ForeverGeek.com publishes a story questioning why two frontpage submissions from one user had an identical list of the first 16 users who had dugg the story. The story implied that there was an automated promoting system that happened to also involve Kevin Rose. Both the blog and the independent user that submitted the post were banned from Digg.
June 26 – Digg v.3 is released. This update includes specific categories for Technology, Science, World & Business, Videos, Entertainment and Gaming. All these categories can be merged in the 'View All' section.
July – A user that cleverly played Digg and Reddit off against each other with a joint submission entitled 'Recursion Defined' was banned, earning the Digg staff a label of humourlessness.
August 14th – Kevin Rose appeared on the cover of Business Week. This signalled big-media's acceptance that Digg, and by proxy many similar sites, was now an important part of on and offline media.
September – Bloggers and diggers start to complain about small groups of powerful users gaming the site to promote their stories to the front page. The counter argument is simply that these groups are made up of valuable Diggers who spend a lot of time contributing to the community and therefore deserve their successes. Rose responds with news of an algorithm update to increase the importance of diverse diggs.
October – It is widely discussed that Digg is in acquisition talks with a number of large companies, including News Corp. However, no deal is signed and, instead, a second round of VC funding is confirmed.
2007
March – Rose announces that Digg has just reached 1 million registered users.
April – Digg releases their API to the public. This allows anyone to build tools powered off the public data of the site.
May – A page with an access key for HD-DVD discs was submitted to Digg. The story did well, but, due to fears over a DMCA notice, was removed before it had a chance to do that well. Over the next few hours, many more similar posts were submitted and then removed by Digg. It wasn't long before the situation got out of control. New stories containing the number were being submitted every 2 seconds- there was no way all of them could be removed, so Digg got on board and agreed to stop trying.
August – Digg gives the site a significant makeover with a front page that integrates images and videos into the news listings. The update also includes a one-click bury option to increase the popularity of the function and therefore improve overall feedback.
September – More updates to Digg with a distinctly social-media flavor. Profile pages become more connected, chatting between 'friends' is enabled and submissions can get shared between friend networks.
2008
January – Kevin Rose makes an announcement on the Digg blog about another tweak to the promotional algorithm that focuses on the importance of diversity in a voting profile.
February 25th – The first Digg Townhall. A live event for which users could submit questions and then vote on their favourites. The top 20 questions were then addressed by Kevin and Jay.
June – Digg releases a Recommendation Engine, which is powered off a user's onsite activity and aims to point them towards content they'll probably enjoy.
July – Talks with Google for an acquisition of approximately $200 million came to an end, with the search engine giant leaving Digg 'at the altar' when most commentators considered the sale a done deal.
August – The first Digg Dialogue is conducted. Jay Adelson interviews the Speaker of the House, Nancy Pelosi, live. He asks a range of questions sourced from the Digg community. These Dialogues continue to date, with big names such as Al Gore, Sir Richard Branson, Matt Damon and Peter Jackson taking part.
September 24th – Jay writes on the Digg blog 'Big News: Expanding & Growing Digg'. The post thanks the users for their support and describes how the site updates are powered off their feedback, "including personalizing the Digg experience, enhancing the recommendation system across other areas of the site, creating deeper category and topic content views and more ways to discover and organize content."
December 2nd – BusinessWeek reports on Digg's financial status, claiming that a drop in recent VC funding means that the overall valuation of the company has dropped from around $300 to about half that. They also quote Jay Adelson as saying: "Digg … is no longer for sale, and the focus of the company is to build an independent business that reaches profitability as quickly as possible"
2009
January – Digg emphasizes their pledge to improve advertising on the site by bringing in Tom Shin from Yahoo as a new head of sales. He manages the Microsoft relationship (until its exclusivity deal is stopped in March, a year ahead of schedule) as well as looking after the overall advertising strategy.
March – Digg is overtaken by Twitter in terms of total unique visitors.
April- The Digg Bar launches. This comes hot on the heels of similar releases from competitor StumbleUpon. The bar allows you to digg or bury any page, share it with friends and navigate to related pages. There is also a 'Random' button, which works a lot like SU. The bar also creates a shortened URL, important in the sharing of pages on services like Twitter. However, because of the aggressiveness of the toolbar in viewing all content through it's own iframes, Digg had to roll back some of the changes.
April- New Digg Search – this comes as a relief to many Digg users, as the previous search function was erratic at best. The new search brings in filters like 'best match', 'most dugg' and 'newest first', to allow a much more useful ordering of results.
May – Digg launches a new feature that integrates Facebook Connect with Digg.
May – Digg takes further steps to reduce the amount of group digging that goes on by removing the Shout feature, which was used to share stories among friends.
June – Adverts are inserted into the results (clearly marked as sponsored) and users can digg or bury as they wish. The ad's performance relates directly back to how much the advertiser pays.
December – Techcrunch reports that Digg has taken a dip in traffic and now pulls in about half the visitors of Twitter.
December 4th – The Mayor of San Francisco declares today Digg.com Day – an impressive accolade!
2010
January – Digg takes a further step into mainstream media with a live appearance at the Golden Globes. Questions are submitted before and during the coverage and the event is a huge success.
March – Big behind-the-scenes changes at Digg. The site's infrastructure is being rewritten with a move away from MySQL to a NoSQL alternative.
March – Following the success of Facebook Connect, Digg announces plans to increase integration across a range of third party sites.
March – There's a lot of anticipation around after an announcement from Jay Adelson at the SXSW "Bigg Digg Shindigg" event. A major overhaul is in the pipeline and you can see glimpses of this at New.Digg.
April 4 – Jay Adelson announces he will be stepping down as Digg CEO among rumors of some tensions between Kevin and Jay.
April 5 – Kevin Rose announced they will kill the DiggBar and unban all sites with the release of Digg V4.